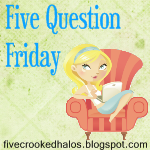 I have not posted in a while so I figured I needed to get something up on here!!!! I always LOVE Five question fridays but always feel like I cant sit down for a minute to type anything out!
So, here it goes,.... Five Question Friday!!! Thank you
Mama M
.
1. Does Santa wrap the presents he leaves at your house?
Santa Wraps everything at our house! Although, this year there will be some super oddly shaped items so I need to figure out how Santa can get those wrapped up nicely! Santa does not do bows or anything like that. He fills the stockings with some goodies but mommy also throws little things in to the stockings for the kiddos too!
2. When is your "big" Christmas celebration...Christmas Eve or Christmas Day? Tell us about it...
When I was growing up we would go to my paternal grandparent's house on Christmas Eve, have our gifts on Christmas morning (oh, and go to church for midnite mass on christmas eve) and then we would go to my maternal grandparents for a big christmas dinner and gifts on Christmas day night.
Now, things are different. We are a military family so we basically do things our own way. I am hoping to make a nice dinner for all of us and maybe invite another family over. I dont know yet though becuase I have not talked to my hubby and for some reason someone always seems to be puking on the holidays around here so I dont like to make plans. We do Christmas gifts in the morning after Santa drops them off. The kids open the stockings first, usually when we are getting up and moving. We dont usually have any money to buy gifts for one another (me and Chris) so the gifts is strictly about the kids. My parents gave us money for a trip to Florida and Disney so the gifts from them will also be less this year... because the trip was an awesome gift!
On Christmas Eve I give the kids brand new jammies to wear. We hope to make some cookies this year too! (minus peanuts/peanut products!)
3. Are you big on keeping tradition every year?
Once we are settled in a permanent place I am hoping to develop traditions, especially as the kiddos get older. Next year Chris will most likely be in Diego Garcia so I have NO clue what the holidays for next year will be like! SO NO TRADITIONS!
4. Do colored lights or white lights tickle your fancy?
I LOVE THEM ALL! We have a giant christmas tree that has been growing in our yard and the 1st 2 christmas' here it was all blue lights, last year and this year it is all red. Our inside tree is hideous but I wanted the kids to have what they wanted... maybe I will get some pics up! the more lights the better!!!! Mish mosh it if you want!
5. Do you decorate outside your house for Christmas?
HECK YEAH although this year we are very much behind because of our trip to Florida! The more the better for that too!!!!!!!!!!!