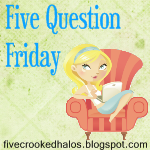 ITS FRIDAY!!!!!!!!! HOP ON OVER and visit MAMA M. at
My little Life
!!!!!! I love to just answer random things about me!!!!!!!! Have a SAFE and HAPPY HALLOWEEN!!!!!!!
1. What were you doing the last time you really had a good laugh?
It was at our Bunco Night I believe!!! My friend Julie had the most outrageous costume on and we just had some awesome laughs! I do laugh alot with my family though, but that was a belly laughing kind of night!
2. Who was your first CELEBRITY crush?
MICHAEL JACKSON!!!!!!!!
3. What is one talent that you wish you had?
I wish (only one?!??!) I knew how to Knit... REALLY Well... I dont know how to knit at all but I would so love to know how. I wish I could play the guitar too. There are so many things....
4. How often do you and your spouse go out w/o the kids? Is it frequent enough?
The last time was March 6th. SO... does that answer your question? And the time before that was I think in 2006. NO it is NOT frequent enough. That sort of counts as NON EXISTENT
5. What colour(s) is your bedroom?
White. We live in military housing and I have not been brave enough to change it because even though we know it would look a million times better, we would have to change it back before we move out to the nice generic military economy paint.