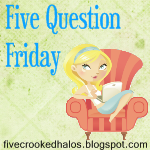 WOOHOO! IT IS FRIDAY!!!!!!!! TIME FOR THOSE SUPER AWESOME FIVE QUESTIONS HOSTED BY
MAMA M
. at her blog FIVE CROOKED HALOS!!!!!!!!!!!!!!! SHARE YOUR ANSWERS WITH THE WORLD!!!!!
1. Would you ever vacation alone?
Today, I would probably say HECK YEAH.. but, in all honesty, I dont think it would be as fun as going with someone else. So, that would probably be a no. I love sharing my experiences with other people. ESPECIALLY my loved ones! I look forward to adventures in Florida with my parents when my hubby is deployed. Something to pass the time and fill all of our lives and hearts with great memories.
2. Do you go the speed limit?
I plead the fifth.
3. Why did you start blogging/following blogs?
I think I started following shortly after I gave birth to my son in Nov. 07. Someone on my November 2007 board had posted a bunch of links to blogs she had been reading and I was hooked. Now I just click on people's lists and read interesting things. I started my blog to document my life. It is good to go back and read things that dont stay in my mind!
4. Where do you shop for yourself?
I dont. Seriously. I hate shopping for myself. I DID buy some Lands End stuff for myself at Sears after Christmas. I have gotten a couple of things at Kohls Last March and some undergarments at Lane Bryant over a year ago. Sometimes I get a shirt here and there but they always end up with a hole in them or something. It is ridiculous how that works out. FINALLY buy myself something and WHAM-O... ruined. In a matter of days. I will be going to a Ball in April which means I am going to have to dress up which I am SO dreading shopping for. I have ridiculous wide feet.. and I am frumpy. I hope I lose some weight and look better than I do now by the time the ball arrives!
5. What was the song that you danced your first dance with your spouse to at your wedding...or...what song would you like your first dance to be to?
This
was the first song that had come to my mind when the wedding planner had called to ask what we were going to dance to. We hadnt initially intended on any dancing. We had a small wedding on the north shore in Hawaii and for having moved out to Hawaii to be with him.... I thought this was pretty fitting, being in a whole new culture and environment outside my comfort zone....
DONT FORGET TO LINK UP! HAVE A WONDERFUL WEEKEND!