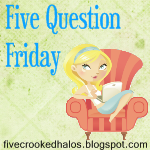 AGAIN! IT is FRIDAY! MY FAVORITE DAY OF THE WEEK! LOL!
Go join in the fun with
Mama M
. and let us know more about YOU!
1. Which boygroup did you like most in your teens?
Ohh... I was a fan of the New Kids on The BLOCK... saw them in concert a whole bunch of times but, as an adult I am not following them... boo... boring huh?!
2. Do you do Christmas cards, letters, photos, nuthin', all of the above?
I send out photo cards that I make on Walmart.com and then pick them up, shove them in an envelope, slap on a stamp and return label and write out the address (I KEEP TRACK of who I send them to and who I get them from, so if you aint sending, you aint getting... I am like a thrifty santa... checking my list...)
3. If you could meet one celebrity who would it be and why?
I would love to meet Ronald Reagan. Oh wait, he is dead. That is who I would like to meet because I think he is... was... the man. Alive... hmmm.... John Travolta. even though I dont agree with Scientology, I would love to give him a great big hug. Poor guy. He just looks so sad since Jett passed away.
4. Favorite thing to cook with (i.e. stainless, non-stick, Dutch oven, microwave, debit card...or, perhaps, a cauldron, etc.)?
I use whatever I have... nothin fancy... but I am a crock pot fan! (oh lord, my kid just came in the room and he has done some nasty business in that diaper... GROSS... TMI..... SOMEONE PLEASE COME CHANGE IT FOR ME!)
5. What is the one thing you wear the most, besides your unmentionables?
I love my crappy wardrobe! Full of long sleeve T shirts and pants that scream NAVY TRASH WIFE... Why bother getting dressed up? I am off to change a disgusting diaper.... why would I wear anything else? Comfort... its what its all about.